How to increase your CTR (Click Through Rate) in Google Adwords effectively


Among the forms of advertising that Google provides to businesses, we can realize that Google Adwords is the form selected the most by businesses. The outstanding advantages of this form are the reason for the businesses always toward choosing it. Defining right the customers have real needs, saving advertising costs to the maximum extent thanks to charging as per click…are the advantages that every one can see from this form of advertising.
However, it is not always the case that advertising strategy with Google Adwords is effective as expected. The evidence suggests that there are many customers have to pay high fees for ads but the real efficiency is not much. Then, how to optimize the costs for advertising strategies? It is essential that your business has to increase CTR rapidly, ensure that it is in the right direction and achieve great successes.
CTR or also known as click-through rate is the ratio of users who click on a specific link to the number of total users who view a page, email, or advertisement. It is often used to measure the success of an online campaign for a specific website as well as the effectiveness of the advertising keywords being used.
Below are 12 pieces of advice guiding you to increase CTR effectively for your advertising campaign.
1. Define the target of advertising campaign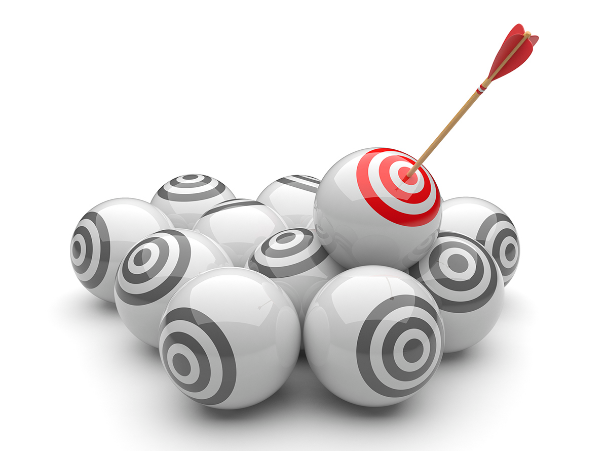 With a clearly target, you can adjust Google advertising campaign accordance with that target. Focus on keywords and their positions. The more keywords you advertise, the more chances of attracting access. The position of keyword (through auction) also significantly impacts on the number of people visiting your website.
2. Using headlines having reasonable length
For the searchers, they need to define right the information they are looking for before accessing to a certain website and the first information that they pay attention is the headline. You need to pick a headline having enough length to show focused information that your website contains. A headline like that undoubtedly will attract more viewers accessing to your website, leading to increase CTR quickly.
3. Optimizing your Meta Description Tag

Meta Description Tag is used to describe generally the content of a website, help customers and Google understand the message that you want to transmit. Google depends partly on the content (especially by the keywords appearing inside Meta Description Tag) to rank your website. You should write your Meta Description Tag as per below criterions:
Always describe the content honestly, except for the banned content. Do not try to attract searchers only by Meta Description Tag while the content is not entirely the same. This only loses you brand.
Limiting characters – You should keep your Meta Description Tag shorter than about 155-160 characters (counting spaces)
Writing catchy Meta Description Tag to get viewers to click. A perfect Meta Description Tag is also the same as a perfect advertisement. It must be attractive and full informative.

Making sure each page on your website must contain Meta Description Tags having different contents. Avoiding content duplication between Meta Description Tag

Using phrases which are beneficial for customers such as: promotion, discount, good service, high quality…However, you should not abuse this.
Containing call to action phrases such as Buy Now, Click Now…
Containing trademark.
4. Using Google Rich Snippets

Since Rich Snippets was born and Google applied to its search engine, many SEO and Marketing experts have chosen it as a powerful tool so as to increase clicks on search result thanks to displaying special information as well as very intuitive.
The Rich Snippet provides the users with an informative glimpse about the things they have searched for, allowing them to get as much information as possible before clicking onto the website. The Rich Snippet can even include a picture, for example if your website is about recipes, this will help your customers  foresee how the recipe will look like before accessing the website, as well as cooking time, reviews of the recipe, ingredients and nutritional information. As consequence, customers' confidences increase significantly, contributing greatly to the increase in CTR and effectiveness of advertising.

5. Displaying Breadcrumb on Google Search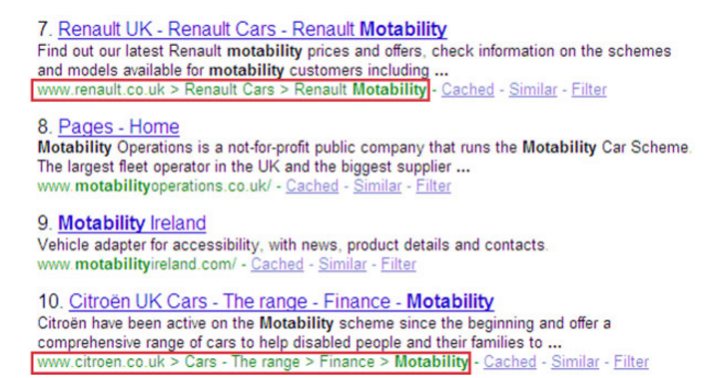 Breadcrumb (navigation bar) can help customers know the content they are viewing belong to which part of website by displaying a navigation bar and linking various categories together.
This function normally is on the professional blogs/websites and nowadays, Google can display it on the search result instead of displaying a normal link. In order to display Breadcrumb, you need to add Breadcrumb reporting information by Microdata or RDFa format in order that search engines can define which is Breadcrumb to display it on search result.
If you use WordPress, you can use RDFa Breadcrumb plugin to display a navigation bar by an RDFa formatted data.
6. Displaying avatar on Google with Google Authorship

By displaying suitable avatar on search results, viewers will understand that this is a proper website with high quality content, and then they will proactively click on. Simultaneously, displaying avatar also increase attention between you and other search results which are not supported with displaying avatar.
7. Displaying Sitelinks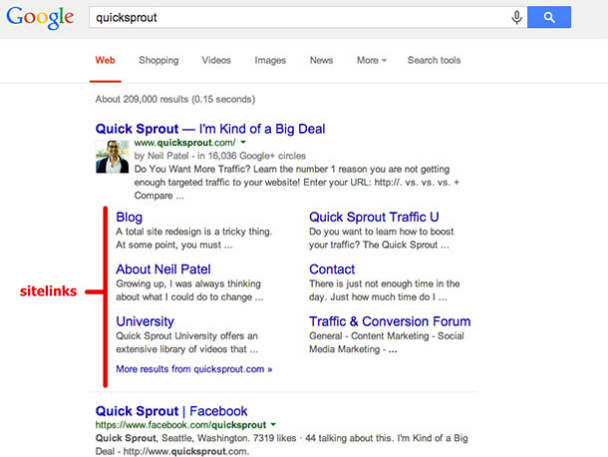 Sitelinks are the additional links to the main result of some certain keywords, and it helps viewers easily navigate or suggests relating content. It can take people to specific pages on your site – your store hours, a specific product, or more. When someone clicks or taps on your links, they skip right to what they want to know or buy. Actually, Sitelinks only appear on reputable and reliable sites/blogs.
8. Optimizing Google Instant Preview
Instant Preview function on Google allows viewers to be able to have a glance at the content's photo. However, it's unlucky for the websites using flash because Google will take photos at any time, so the photos sometime become ugly because of motion effects that flash causes. Therefore, if your website has a lot of  banner flashes often motion, you should limit that.
9. Applying a Call To Action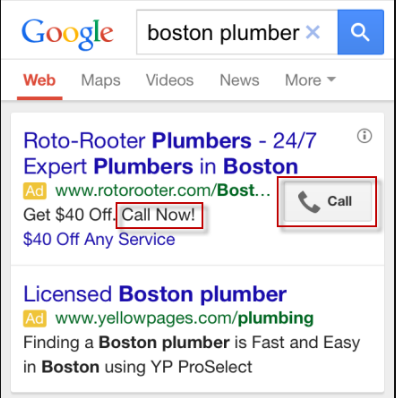 One of the most vital elements you should add to your text is a powerful call to action. A call to action is a direction to the viewers to make a reaction immediately after viewing your advertisement, it usually uses verbs such as "call now", "find out more", "register now", "buy now", "apply online" and so on. Normally, it is appears in the second description line.
10. Creating Tightly-Themed Keyword Groupings
Grouping keywords according to similar themes is a very important factor to increase click through rates (CTR). The keywords grouped into closely related group can help your ads always closely relate to users' queries. For example, if you are advertising mobile phones, do not advertise them in very general terms but break them down into models and brands.
11. Capitalize on Long-Tail Keywords
Long-tail keywords tend to have less direct competition, which results in lower costs and a better click-through rate (CTR). Besides, customers today are much more experienced in doing searches online. Hence, they know that in order to help them find a certain product, service or business, they need to enter longer keywords to find the best suitable results.
In order to use long-tail keywords, you not only need to understand what you want but also need to understand what your customers want. If you can think like your customers, you can create ideal long tail keywords properly. Depending on your target customers' purchasing power, age group and concerns, the languages to create long-tail key words are also different.
12. Running many different ad pattern for a keyword
Running many different ad patterns for a same keyword will help you evaluate the effectiveness and the habits of customers when they key a keyword. That is the basis for you to choose ad patterns more effectively.
Conclusion
The 12 tips presented above can help you increase CTR in Google Adwords, and consequently bring great efficiencies and successes for advertising campaign.