Why to Embed Free WordPress Theme – Optimizer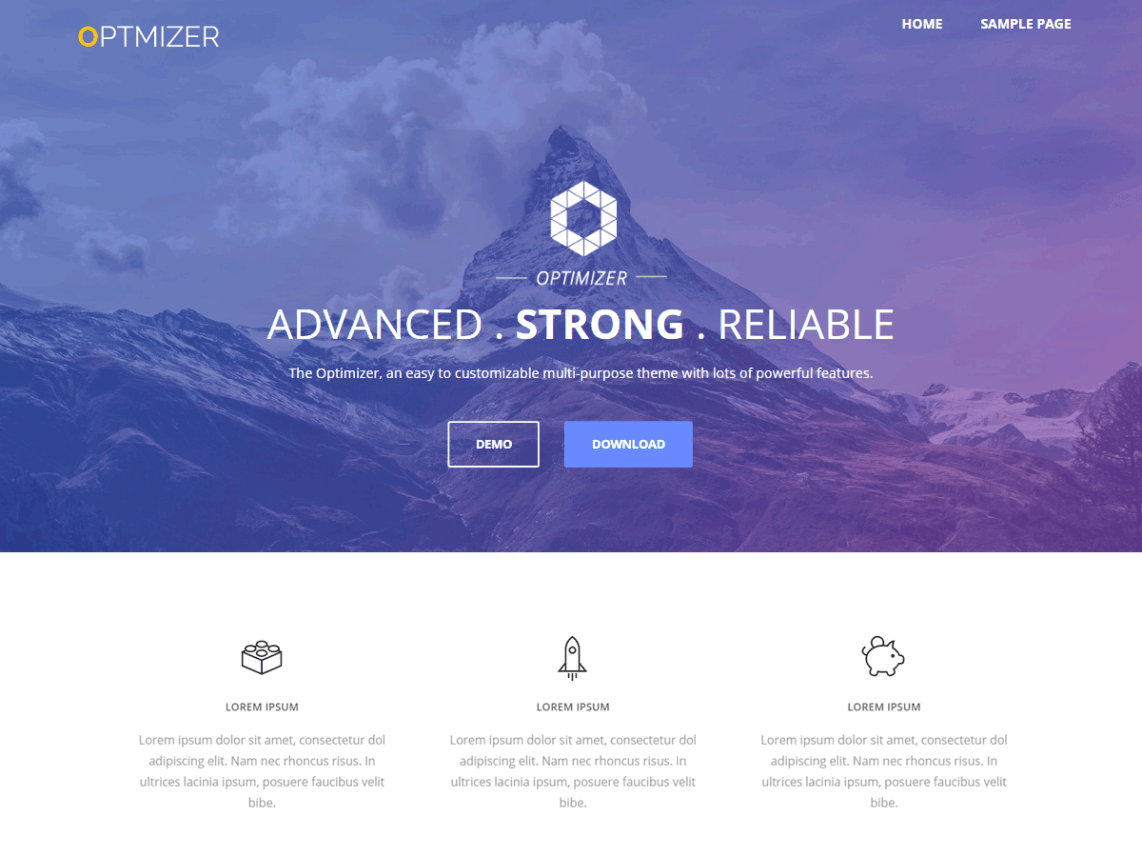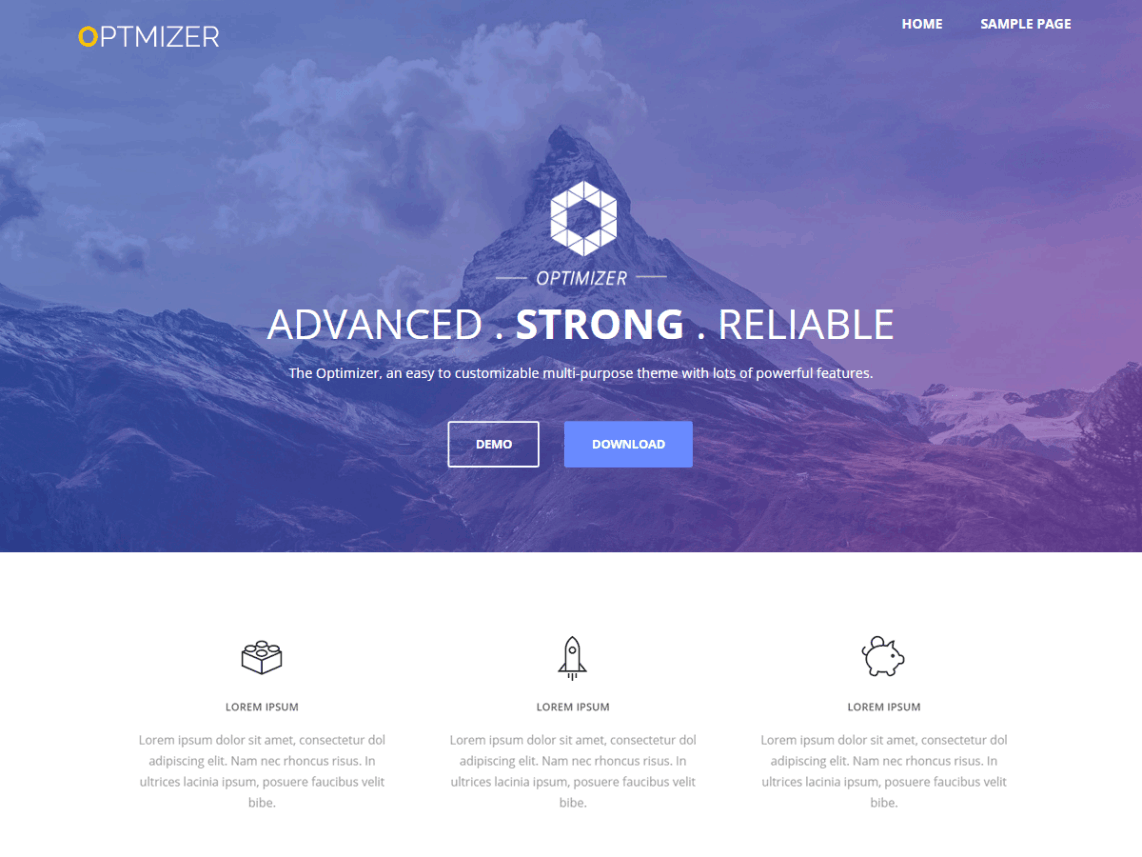 If you're thinking to develop a modern responsive website on WordPress, it can be time-consuming. To begin with it, a developer has to follow good solid themes which may let you customise any element as per your choice. And after this, one may proceed with the development process.
And still, the game is not over. After building a WordPress website, the developer needs to hop around theme options window and your live site. On top of this, it can be challenging to add any elements on your WordPress page without technical know-how. All this is a time-consuming process.
So to stay away from this fishy aspect here is a brief discussion on free WordPress theme – Optimizer.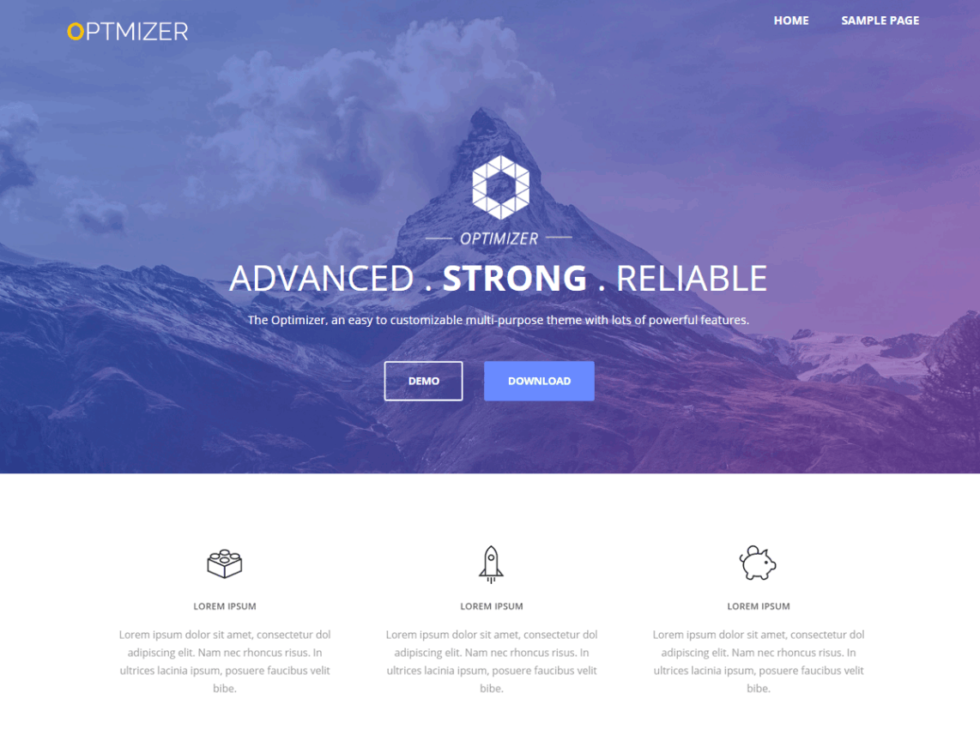 What is Optimizer?
The Optimizer is a powerful, flexible and very customizable WordPress theme. It is 100% responsive and built with HTML & CSS3. It is a trusted theme of WordPress and used by over 50,000 users. The best out of it is that it is SEO friendly, extremely customizable, retina ready and free to use. The theme is rigorously tested and optimised for speed and faster page load time.
Live Options Panel
As mentioned above, Optimizer is simple and available for non-technical users. One can customise any corner of the website and observe the variation live at the same time. With this theme option, one can cut down the website building process up to 70% as one does not have to hop between the theme options panel and your live site.
The optimizer uses an enhanced version of WordPress customizer instead of using typical resource-hungry theme options panel. It improves the back-end and front-end of the theme while using.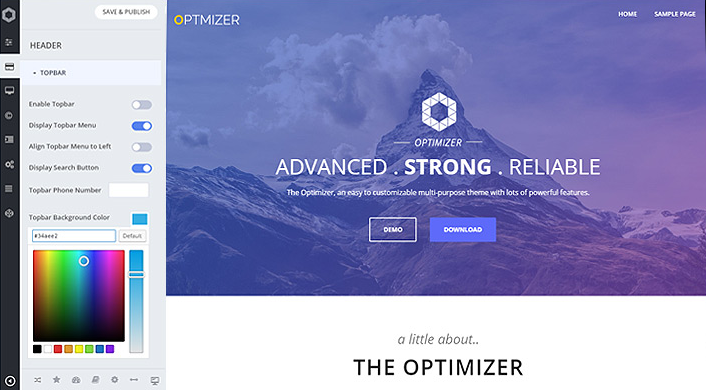 Privilege to embed almost anything in your WordPress website
Sometimes, if you manage a website or two within the management tenure, you need to add special content section either in the inner page or front end. But conducting this on WordPress theme is bit challenging as coding requires knowledge, where one can proceed only after hiring WordPress developer. This process will be time-consuming and expensive too.
The optimizer can help you in this as it utilized WordPress widgets to create stunning pages. It will help you to embed images, videos, audios and other content from the external sources in the self-hosted WordPress website. One simply needs to paste the URL of the content within the editor, and WordPress will automatically embed it. The optimizer fetches 20 beautifully crafted custom widgets which can add any page in the distinct section. One can also drag and drop these widgets to re-position them. There are 40+ predefined widgets into the optimizer which comes with a Preset Widgets feature.
The optimizer is considered best for those who are creating more than one landing page, as it customizes any pages with its beautiful predefined widgets.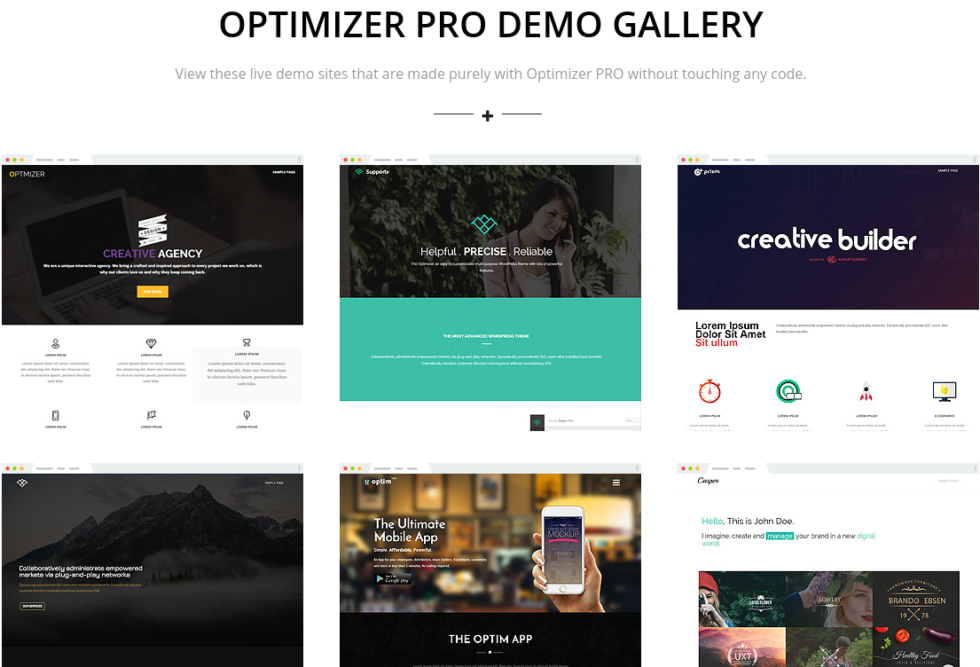 The Optimizer Features
1. Intuitive interface for Non-technical users
The optimizer interface is too friendly and intuitive to proceed. On contrary to other themes, the optimizer lets the user see the changes which make live on the WordPress website.
2. Design Aesthetic Content with the use of Drag & Drop Widgets and Shortcodes
With optimizer widget, you get the leverage to add any kind of content on any page. One is free to add text block, video block, call to action, maps with few clicks.
You can easily add any type of content on any pages you want using Optimizer Widgets like atext block, video block, slider, call to action, maps and a lot more by just a few clicks.
3. Import with one click and edit beautiful designs
The optimizer theme provides the leverage to easily import presets from the preset library. After importing one can edit the content as per requirement. One can prevent itself from importing the whole preset template from beautiful designed preset widget to anywhere in the WordPress site from preset widget library.
Other features are:
The theme is 100% mobile responsive and retina ready.
It is completely SEO optimised and comes with various SEO options.
Optimizer comes with more than 160 Advanced Options to build and customise the WordPress site.
It supports the gallery layout
It comes with advanced customised header
It provides the privilege to upload google fonts as per users choice.
Optimizer comes with detailed Documentation, which brings into Basic Setup to Advanced customization.
Downloading Optimizer
The optimizer is available in two versions. One is free of cost, and next is obviously paid. The free version brings in too many great features that may entice you to download it and create a full-fledged stunning website.