Best Database Management Systems For Joomla's Templates
Database management is very important in website management as well as in any other computer applications used to capture and store data. Definition, creation, querying, updating and importantly, administration of the databases.
Joomla is a big content management system that enables running of many websites in the best ways possible. Online applications and content for your website is done by Joomla and there is an extension suitable for every user. The main databases available for Joomla include, My SQL, Microsoft SQL Server, Microsoft SQL Azure, Oracle DB, Postgresql, and lastly PHP Data Objects (PDO), an abstraction layer shipped with PHP 5.1+.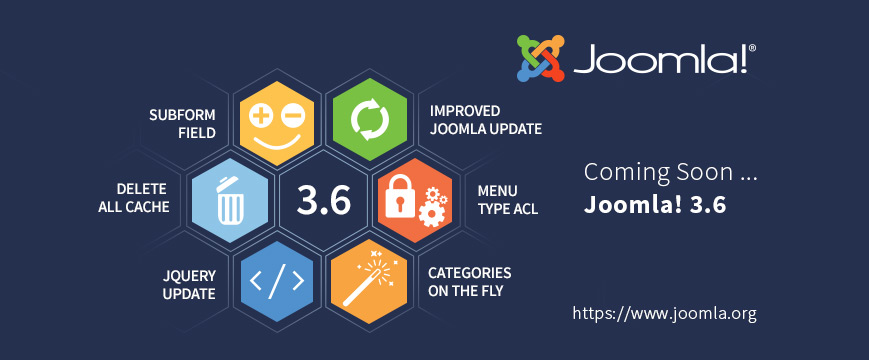 With these databases, once your website has been designed you will require robust and the most professional management services you can get. An in-house database manager is important for big companies but if you are running a small online business or starting, you may consider having remote DBA experts manage your website at all times.
Why remote DBA experts? They are cost effective and in most cases they are very qualified because they have been in the field for a considerably longer time. They have also specialized in offering these services and they have the best database management tools.
Joomla's leading database management plugins/ systems
1. vData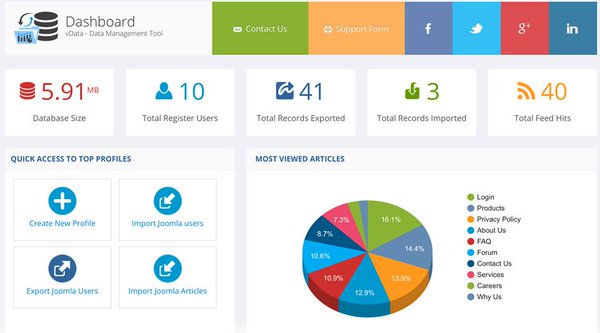 This database manager will allow importation or exportation of Joomla users, articles, configurations, tags, modules and menus. All these are available to third party users. Data can be moved from one website to the next, there are multiple supported data formats and it creates API feeds of your website data in CSV, JSON Format or XML.
Monitoring and analysis of data is possible because you will be able to generate widgets that will give insights into the database and server. Reports and charts are provided. Therefore, with a template using this manager, your business or website will be at all times monitored and the performance improved.
Data management is also simplified with use of supported databases such as My SQL, MySQLi, SQLite, Oracle and PostgreSQL among others. Updates, edits and deletes are therefore simplified.
Other features offered to users of this database manager include design of the most flexible databases, division of the databases in rows and columns, use of charts, graphs, or pivot tables for interactive insights, drag and drop interfaces for quick access and analysis. vData also allows control of user access to features in the front and back ends. It used by most remote DBA experts.
2. Alter Reports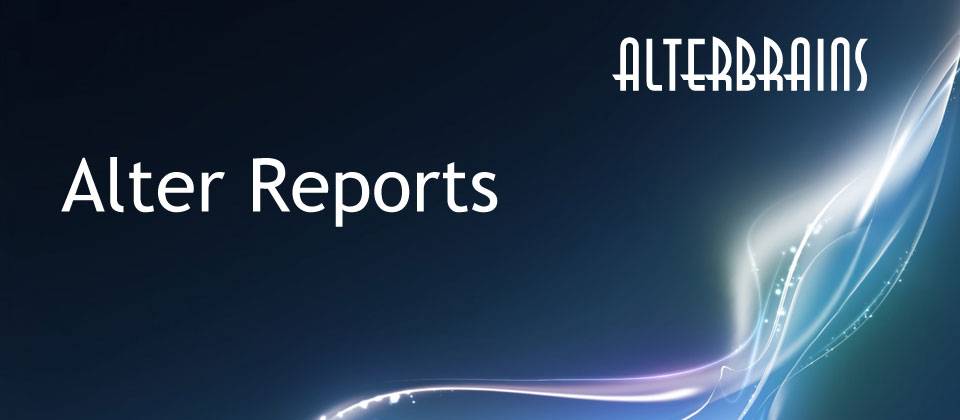 This has been designed to cover all your reporting needs for your website. It uses SQL Queries that has condition statements and rich filters enabling viewership and easy/ convenient download of reports.
It has advanced customization settings for visual presentation of reports. Frontend and backend access to reports is possible. There also are nested categories for the reports.
The main supported database is MySQL via Microsoft SQL Server Driver for PHP. By entering MySQL query, reports can be created and edits made on the MySQL profile. Explaining results, insertion of tags and converting database tables into queries is possible with the database. Orders, searches, and setting conditional statements can all be executed using the databases.
Reports are downloaded as CSV, XLSX, XLS, HTML and XML file formats.  There also are categories of access to the reports and columns of the reports.
3. Chrono Connectivity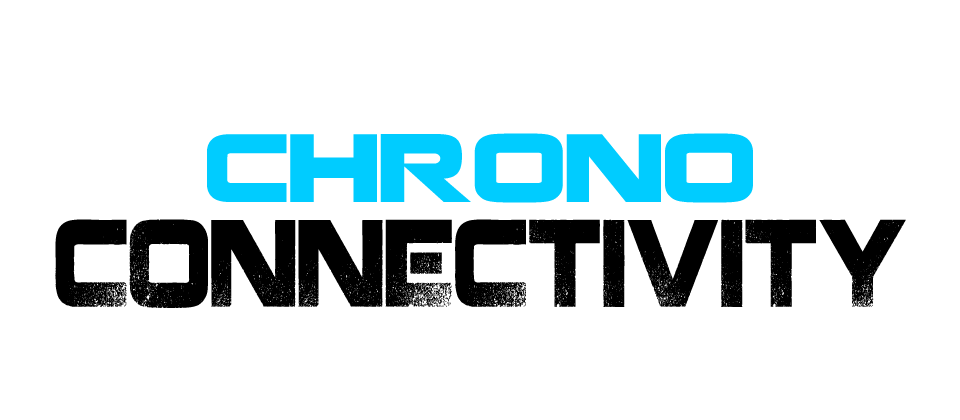 This has an interface allowing use in templates. It is a database manager for forms, directories, content construction, tables, lists and general database management.
Data can be listed in HTML lists or in tables and you will also be able to create editable lists and generate customized processing procedures. Its support, documentation, overall functionality and ease of use is high.
4. JooDatabase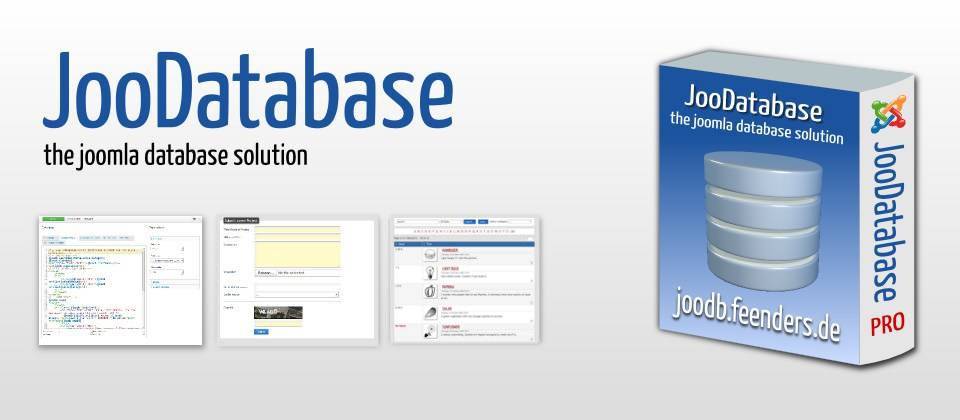 This database gives simple and fast use of tables into Joomla. Features can be added and displayed on external tables and into Joomla. JooDatabase is important for core enhancements of templates, coding & scripts integration and in database management.
It has special features like print icons and pagination-links and is used by some remote database experts in different parts of the world. This extension is also important in handling linking and automatic routing between pages. It has a Pro-version that has multiple tables and sub-forms, frontend editing, Excel spreadsheets importation, category select for parametric searched and ticketing systems.
Joomla Templates
These templates are effective for your business and they use the above features and database management systems. They are therefore very effective for building and increasing traffic to your website. They come with responsive layouts and CSS3/ HTML5 configurations/ layouts. They include:
CreativeStudio
It comes with four predefined template colours but gives you the option to have unlimited colour styles. These ensure that you have the best presentation for your content.  It is responsive, mobile ready and has sophisticated layouts. It also has in-built SEO features to increase your online presence, advanced template admin, a mega menu, custom short codes, and unlimited font types.
Cinematico
The perfect Joomla template for movies. It has enhanced grid layouts for the best presentation of your content and pictures. It also has inbuilt SEO features and rich codes, snippets and microdata to boost your search engine rankings. It is also very responsive.
Focus
This is a business fit template for your company website, software presentation, apps or any other products in need of edgy presentation. It will attract visitors to your page because of the incorporated hover effects, reliable content sliders, smooth reveal animations, fly out main menu, fixed/ boxed page layouts and seven custom module styles.
Blazer
This is a great e-commerce template with full screen sliders and clean minimalist designs letting you display all your products.  It comes with the boxed or the full layout, 7 custom module styles, smooth image hover effects and an unlimited color combination from the 4 default template styles. It is also responsive, has inbuilt SEO features and a mega menu giving your business the best possible features.
Fork
This is a template for restaurants. It has custom short codes, template framework for advanced options, typography, add-ons and a very responsive website. It also has local and general SEO features increasing your ranking on search engines.
Journey
This is the best template for travel magazines with news on the best destinations, hotel bookings, reviews, travel news and anything/ everything travel! It has sleek image transitions, news sliders and unlimited colour styles. It also has advanced SEO features, high responsiveness and 9 custom module styles.
In conclusion, Joomla templates  and databases are well supported, easily updated, Multilingual, they have inbuilt and highly integrated help system, media management, banner management, contact management and give you the chance to have better and smart searches.
As the leading content management and content versioning tool, you will be able to increase traffic to your website when using any of the optimized and well managed Joomla templates.