Add Page Loading Effects, AMP and Other Classic Animations in WordPress with Visual Composer Add-ons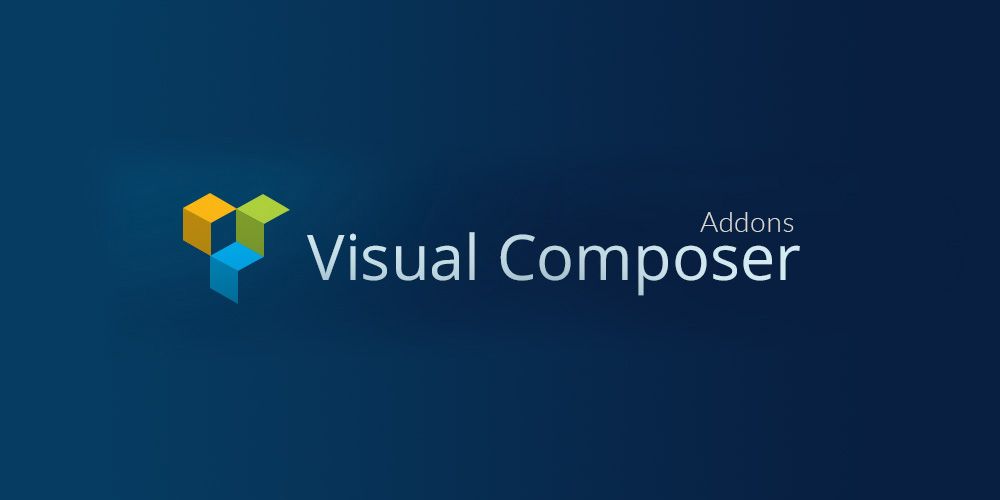 If you are looking for a solution for all then WPBakery's Visual Composer is the product for you. Visual Composer acquires immense popularity among WordPress developers because it allows users to create stunning pages within minutes and without putting any efforts into coding. Why do you have to get messed up with theme's different architectures and grid layouts when you can learn how to setup a page in each theme individually. Visual Composer works perfectly with nearly every themes and I have never seen it having conflicts.
In their recent version, Visual Composer was given a more powerful page builder with amazing templates inside. There were various homepage templates such as About Us, Contact Us and other page templates. It will be my highest recommended composer tool for people who seek quick page formatting alongside with adding responsiveness to it.
Another great feature of Visual Composer is the add-ons it offers you. It is equipped with almost 200 add-ons specific to composer tool right now and the number keeps growing with time. You can add extra functionalities and take your site to a higher level. One thing to keep in mind, you need to have a licensed and original version of the visual composer in order to use all of these add-ons.
Below is a list of few top Visual Composer add-ons that I recommend you to use.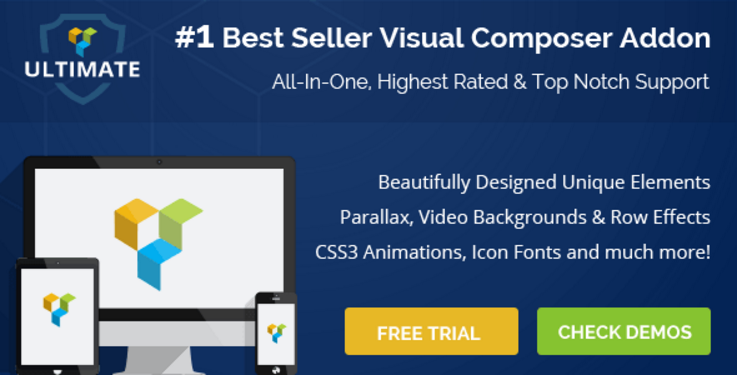 This is the best seller plugin for Visual Composer with around 29,000 sales. If you are a visual composer user then this plugin is just the treat you were looking for. You will be astonished to see what you can achieve with this plugin for your website. Your website will get the top notch ad and an eye-catching UI.
Here are some of the top features of this plugin:
Animation Block is one of the coolest features that helps you animate any element in a variety of ways. You can see this action in live here.
Parallax/Video Backgrounds is another amazing feature that is available in this plugin. Hover your mouse over it and add video effects; you do so much more to your website! Watch it all in action live here.
There are so many elements in this plugin that can boost your sites look. Few of the notable ones are Google Trends, Infobox, Flip Box, and Interactive Banner.
You can see all these elements in action live here.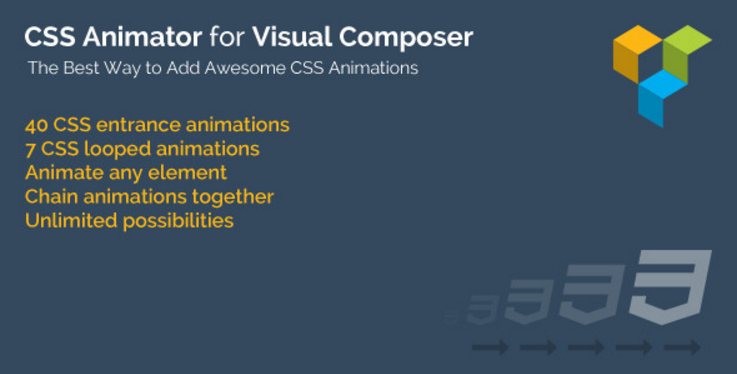 This plugin is purely dedicated to the animations that can help you animate any element of Visual Composer. You can choose from a list of 40+ CSS animations. You can spin, twirl, flip and do unlimited animation styles to an element. It is specially designed for VC and does the work using the drag and drop functionality.
Below is the list of features that makes this plugin so special.
40 CSS Entrance Animations helps make your company profile page astonishing.
7 Chain/Loop Animations is also a cool feature of this plugin.
Easy to use as it is used as VC's element and have settings like any other elements.
Adjustable animation time and delays.
You can watch all DEMO's of this plugin right here. It's a pleasant look when you visit this page, believe me.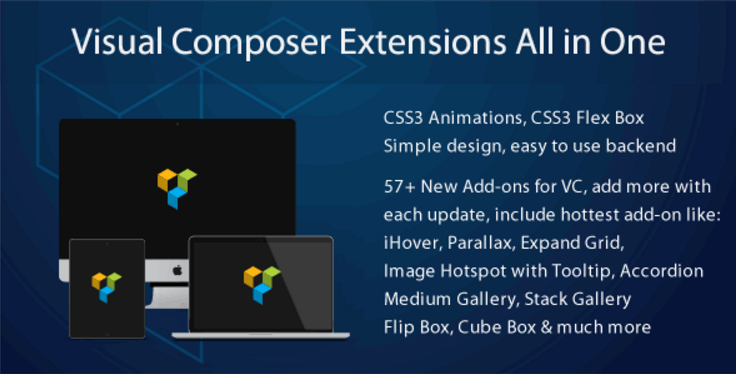 ,
This is another addition to your animation plugin for Visual Composer. All the elements in this plugin extend Visual Composer functions. There are about 58+ add-ons in this bundle, this makes it a must have plugin. You need Visual Composer Page Builder to run this plugin.
Here are some features of this plugin:
CS3 transitions provides you the feature to animate in 3D for example 3D Profile card, 3D float App Mockup and other.
Font Awesome Animations lets you animate any element in various styles. You can see it in action live here.
Expansion Grids gives beautiful look to your image- based page. It works perfectly for Team intro, services and other pages. See it live here.
For complete list of features visit the DEMO page here.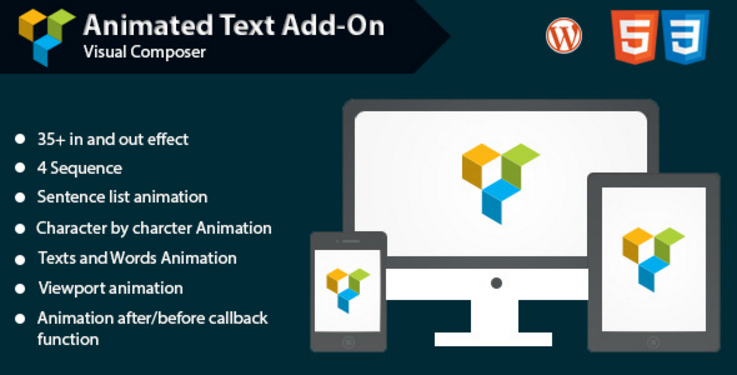 This plugin contains 35+ animations for your text-based elements. There are various In and Out animation effects in this plugin.
Here is a list of features that this plugin offers:
Letter by Letter animations.
Also available in sideways and other style animations.
Viewport animations.
Looping and time delay animations.
You can see the animations live in action here.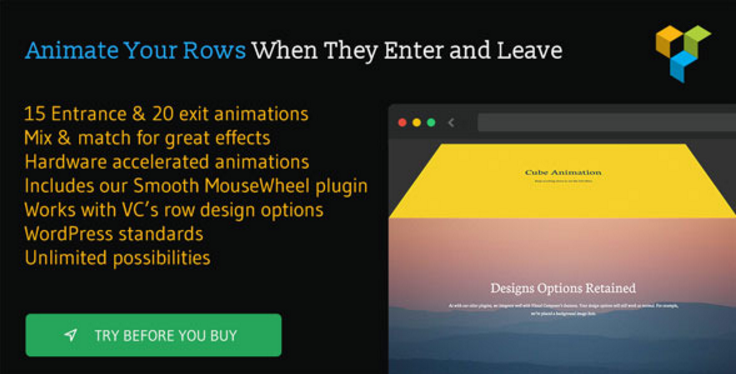 This plugin becomes handy when you want single page styling. It allows rows to get animated in different styles like fading in and out. You can add this plugin and multiple other effects to your site using this add-on to give it a more charming look.
Stated below are some of the features of this plugin:
15 entrance animations.
20 exit animations.
A beautiful Cube style row that makes your page super cool, you can check it on the DEMO page here.
Easily integrates with VC and easy to use.
You can see more charming rows animation here.
If you are a Visual Composer user, then these are the top few plugins that can help fulfill your dreams. These plugins certainly add the best animations and effects to the theme of your website. I will recommend you to try each of them and then request reviews from professionals. You will get a valuable feedback as well as the best recommendations. If you find this article helpful and informative, do leave a comment below. Your participation will be highly appreciated.