7 Link Building Tactics That Actually Work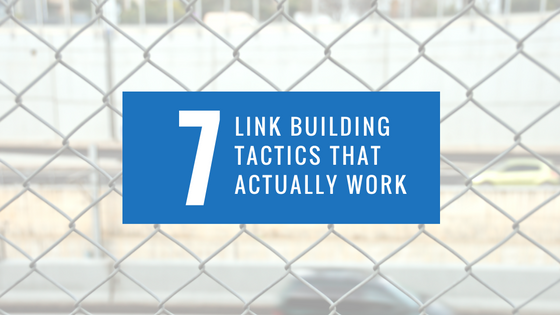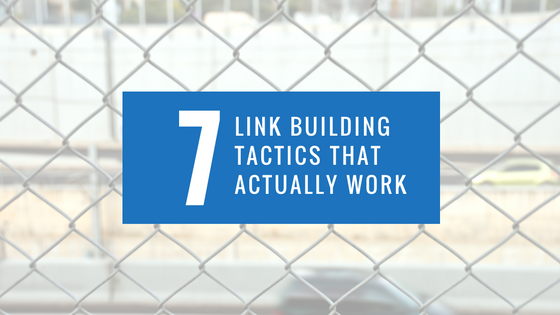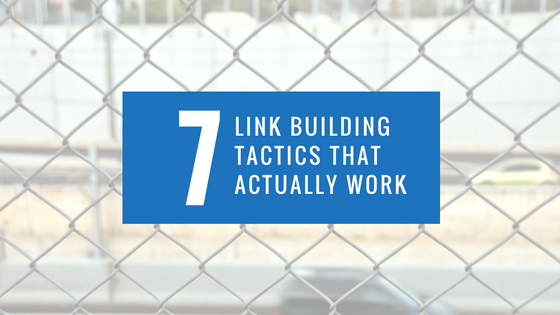 With the process of building backlinks, you get out of it what you put into it. Since the Google Penguin update in 2012, the idea of being able to pour some money into a magical Internet machine and have your website rank in around a month is no longer possible. Links need to be organic, and you need to put in time to acquire only the best types.
Let's start off by saying that: Buying links or trying to pad your backlinks with public websites are two ideas that could land you a Google penalty.  In the days before Penguin, the goal was to get a website to rank as fast and as high as possible. Since Penguin, the focus has switched to organic link development in order to avoid penalties.
Quick Advice About Scouting For Links
Before we talk about link building, let's take a moment to take a few pieces of advice that will help you to get the most out of every link you get.
Be Selective About Where You Look For Links
Make sure that your linking partners run clean websites  that do not link to anything that may be considered spam. If your website is linking to a website that does not offer any value to users,  then Google will penalize both your website and the site you linked to.
Use Intelligent Anchor Text
Experiment with different types of anchor text and make sure that your anchor text differs from your primary keywords as much as possible. Make sure that your website is built to allow for a proper distribution of anchor text and keywords as well as your website keeps the keyword and exact match anchor text density down to around one percent.
Keep Your Links Relevant
The importance of making sure that all of your content and links are relevant to your website's overall theme cannot be overstated. Google does not have bigger red flags when it comes to link building than irrelevant links.
Now let's take a look at some link building tactics that work.
1. Naked Social Media Backlinks
You should have a roster of social media pages which are both active and interesting that you can link to from your content using naked links. You use naked links as a way to virtually put your hands in the air to show you have nothing to hide. As long as you keep your social media sites active, you will be able to benefit from these links.
2. Business Citations
Another way of the Penguin system is through business citations. In many cases, these do not even need to be linked to give your website creditability. If you get a Yellow Pages listing with your business name on it but no link, you are still getting a business citation that will bring value to your business.
Google and the other major search engines offer free business registration services that can do wonders for your website's linking power. If you are especially concerned with local SEO, then register your business with the various search engines.
3. Niche Directories
The days of general business directories having any relevance to SEO are long, long gone. But there is an undercurrent of niche directories that can provide you with valuable links to and from your website. Of course, it is critically important to make sure that the niche directories you register for are relevant to your business. If you can find these little pieces of gold, then you have found relevant links that actually offer relevant DoFollow properties.
4. Geographic Specific Directories
If your business is focused on local SEO, then you need to become part of as many geographic specific directories as possible. If you have multiple locations throughout the country, then use those geo-centric directories to give you priceless linking potential.
5. Blog Comments
If you don't show any interest in any of the other websites in your field, then why should they be interested in your site? People love blog comments. You will find an opportunity for referrals and links when you start commenting on blog posts that are relevant to your field.
6. Focused Field Forums
Is there a corporation that rules your field and has a very active forum on its website?  Then that is one of your priceless sources for good links. Not only can you get linking material from these types of forums, but you can also enhance your reputation as an expert in your filed to the people who actually care
7. Content Marketing
The best way to build links is through content marketing. If your content is relevant and useful to your readers, then Google will pour plenty of Internet sugar on it and take it to the people who need it. You must focus on keywords that are relevant to your field, and you must be extremely active in promoting your content.
Link building is a serious business and you must insist on quality for both sides if you are going to be effective. Your website has to be the kind of place where a partner site will want to link. Besides, you must only link to other websites that will make your site look great.