10 Best 2016 WordPress Themes for Blogging Beginners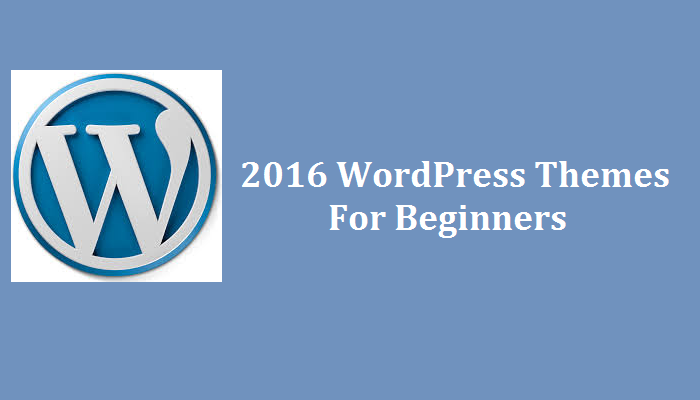 WordPress is the ultimate blogging platform and this is clearly supported by numbers. So far, over 70 million websites and blogs are supported by this content management system (CMS) and the numbers keep growing. Matt Mullenweg might not have predicted such numbers when launching the CMS in 2003 but the competition seems to wither against this popularity. With over 140 million downloads, WordPress is arguably one of the most popular open source software around.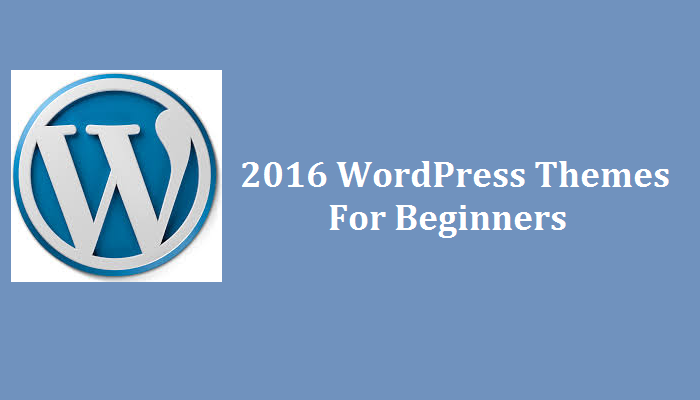 Why Choose WordPress?
Here are some other reasons to go for WordPress for your blog:
Extensive community support: As a beginner, you need a lot of help to boost your blog. Luckily, WordPress boasts the most extensive user support and you will always have timely answers for all your questions. In case you have technical hitches on your system, there will always be an answer to get you going.
Easy Customization: As a blogger, you want the best platform to host your blog and give it a unique feel. WordPress themes are optimized to give your blog a distinctive feel and you can easily customize your blog easily. There are over 45,000 plugins to optimize your blog. From security plugins to speed plugins, there is always a new plugin being released to help your blog perform better.
Free WordPress themes: This is the most important reasons you need to choose WordPress. With over 4,000 free themes, you have a lot of choices. As a beginner, you have the chance to give your blog a unique look.
Free: This is the beauty of using this CMS as a blogger. There are no start-up costs and as your blog's traffic grows, you have thousands of free plugins to optimize your platform.
One click installation: You do not need any coding or programming skills to get started with WordPress.
The Coolest 2016 WordPress Themes for Beginners
You need to use DBA services to manage your database as you focus on your blog. It all starts with choosing the right WordPress theme for your blog. With the growing popularity of the CMS, new themes are being launched rapidly.
For 2016, the biggest theme shops including Array Themes, iThemes, StudioPress and Themify have released some cool themes for beginner bloggers. Here are some of the best:
1. Newspaper 7
This is perfect for news blogs, review sheet and magazines. It is the most popular WordPress themes for content driven blogs with over 20 unique demos, integrated translations, and many more features. Newspaper is mobile ready and Google AdSense ready. It features a clean coding, fast page loading speeds and is also Woocommerce compatible.
2. Divi
This is a multipurpose blog theme that is bold visually and provides a stunning presence for your blog. It is an intuitive theme that is easily customizable, social media friendly, and very pliable. It provides scalability and it is easy to use, which is perfect for beginners.
3. Uncode
This theme provides a responsive layout that is unique, which gives you a competitive edge in your niche. You have a limitless range of possibilities with this easily customizable WordPress theme. It is a user-friendly theme relying on drag and drop technology. Uncode allows you to showcase beautiful images, animations or any other content you have without any coding skills.
4. Writing
This is a minimalist WordPress theme that helps make your content even more visible. It is a fully responsive retina-ready theme that is compatible with all browsers. Writing is SEO-ready, WPML compatible and you can easily choose a layout that suits your blog.
5. KALLYAS
This WordPress theme allows you to create a professional blog. It is an ambitious blog theme that targets beginners who want to stir their niche within no time. Whatever project you have, there is a page layout that suits your needs and the blog templates are bold and innovative. The amazing Revolution Slider makes it a perfect choice for a great blog.
6. Soledad
This is found at Themeforest and is a top seller due to its modern and vibrant appearance. It is the ultimate option for extensive customization and you have over 100 blog building custom combinations. Soledad is the ideal blog theme to create perfect first impressions.
7. Zillah
This is a stylish WordPress theme if you want to impress readers instantly. It is fully responsive, offers unlimited color options, custom widget and logos, live customizer, SEO friendly and so much more.
8. Amadeus Pro
This is ideal for a blogging beginner as it offers a simple yet classy layout to captivate your readers. It is a fully responsive theme with elegant topography, widget area, footer credits, Instagram feed, multiple color schemes among other features.
9. Kalium
This is a youthful and vibrant theme, which helps give your blog a professional touch. It is one of the most powerful blog builders in the market with a large variety of layouts and its sophisticated feel makes your blog stand out from the completion. With a highly responsive CSS3 styling, scalability options and unique hover effects, Kalium allows you to get your blog rank high much faster than other platforms. 10
10. Uberto
This is a good option for personal blogs and it offers video and audio content support. It is fully responsive with localization capabilities, shortcodes, pre-defined color schemes, custom widgets and many other features.
Finding the Right WordPress Theme for Your Blog
Blogging on WordPress is fun and if you want to monetize it in future, you must start with the right theme. A good WordPress theme gives your blog a unique appearance and personality. With so many blogs around, you need to add a distinctive character to your platform to guarantee higher ranking for your targeted keywords. When choosing WordPress themes, consider these factors:
Simplicity: Leonardo Da Vinci was onto simplicity is the ultimate sophistication. Always be wary of a design layout which is just stylish but does not compromise on simplicity and usability. Avoid complicated themes because users want a seamless experience when they visit your blog.
Responsive design: Pick a responsive WordPress theme that can adjust to any internet device. Most users today are on mobile and tablets and you need to provide them good user experiences. Mobile ready websites and blogs will rank higher on search engine result pages (SERPs). Make sure you test every theme for mobile readiness before adopting it for your site.
Plugins: Your WordPress theme should be able to support popular plugins such as Gravity Forms, W3 Total Cache among others.
Browser compatibility: Your target audience uses different browsers and the design layout you choose should support these. Look for a theme that supports top browsers including Google Chrome, Firefox, Internet Explorer and Safari.
Support options: Make sure you look at the support options especially for free WordPress themes. Always ensure you are guaranteed of timely support if there are technical issues with your theme layout.
You also need to consider SEO friendliness, ratings and reviews, popular page builders and multilingual themes when you visit the top theme shops.
There you have it, choosing the right WordPress theme does not have to be so hard after all. You need to look for the latest release and go for the one that has more features. A large number of features come in handy when starting your blog and also make it scalable. Moreover, look for easy customization and support.