Revealing Pros and Cons of Joomla vs. WordPress
Debating over the pros and cons of Joomla vs. WordPress is not so easy as both stands equal in popularity when it comes to implementing efficient open source Content Management System (CMS). Now you might think which of these two CMS to choose if they both are equally famous? This question has no simple answer but checking out some pros and cons of both platforms will definitely help you in extracting the best possible conclusion without putting much effort.
Before exploring the pros and cons of these two open source platforms, the evaluation of their market share will help us in evaluating which of them outshine the other one.
Content Management Share of Joomla and WordPress
Joomla and WordPress aren't popular just because they existed since long in the IT world as there are plenty of other platforms available in the market even before the turn of this new millennium. It is not the time that has contributed to their fame but their ease of access, which have made them the best chosen platforms over their rivals. The birth of these two open source CMS have provided users with the opportunity to develop dynamic website according to their preferred set of requirements.
The following graph depicts the CMS market share of these two platforms to help the users get a clear idea about their popularity amidst their other open source competitors: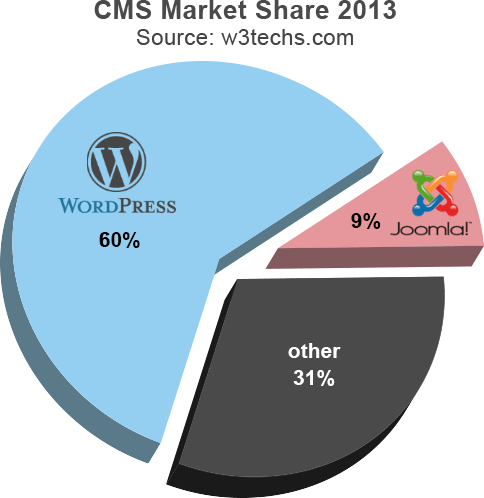 The above pie chart shows the content market share of Joomla, WordPress, and other open source CMS for the year 2013. It is clear from this chart that WordPress stands affirm with its 60% share while Joomla only has 9% share and rest 31% is shared by other CMS platforms. The extensive share of WordPress exhibits its unparallel success, which is contributed by its bundle of impressive features including search engine friendly interface, fast loading speed, resolved content redundancy issue, easy navigation and robust site structure.
How similar are Joomla and WordPress?
The efficiency of any CMS lies within its ability to create a website and a blog on the same domain name. Content Management System helps the users in creating a website from an impressive theme or template and they can also manage the content over their site from its backend without putting unnecessary efforts.  Although both Joomla and WordPress are open source platform and they tend to provide the same experience to the users yet there are some ways by which you can differentiate between these two renowned CMS platforms and can take a decision to choose the one that suits your requirements.
Both Joomla and WordPress are incorporated with plenty of resources to help the users learn the process of using these systems. However, a brief introduction to both these platforms helps you in recognizing what these platforms are.
An introduction to WordPress
WordPress, being most widely accepted CMS across the globe needs no introduction yet it has some explanation, which has to be known to all the IT experts. It is a user friendly open source platform based on PHP language and it uses MySQL for the management of database. Since its inception in 2003, it continues to draw the attention of IT experts and presently, it acclaimed 25% of the web's top sites and 15% of Alexa "Top 1 Million" websites.
Pros of WordPress
Open source CMS: This feature makes WordPress the first choice for any beginner or advanced developer. If you don't understand what an open source means, here is the explanation for you. Open source means you can easily download the source code from the CMS software and perform the modifications in the code as per your suitability. The CMS software from which you will perform the downloading is free of cost.
Easy setup: this marketing message is majorly attached with WordPress ever since its launch in the technology world. It takes only five minutes or less to setup WordPress on your computer, which makes it a very time saving choice than its competitors.
Customization: You will get hundreds of free themes either through WordPress site or through any third party provider. It helps even the learners and beginners to customize their websites as per their business or personal requirements. You can also choose from a bundle of plugins available at WordPress site to beautify your site's content.
User friendly interface: The UI of WordPress is easy to use and it is highly intuitive even for the beginners and first time bloggers. You can conveniently add few plugins and drop a theme within minutes.
Strong SEO features: WordPress is integrated with plug-ins like All in One SEO pack, which allows you to start blogging straightaway without concerning for on-page SEO.
Flexibility: Thanks to the customized themes and plugins of WordPress that offer you the flexibility to develop all type of websites and blogs such as you can run an e-commerce store, develop a portfolio of your company or can host a video site as well.
Cons of WordPress
Security: WordPress is often falls short in the hand of hackers and you will need to install third party plugins for improving your WordPress installation security.
Incompatibility with other plugins: The new updates released by WordPress are often found to be incompatible with other plugins. If you own a site with older plugins, you might have to restrict your site from installing updates to prevent the incompatibility.
Limited design options: Although WordPress is considered to be the most customizable platform but it suffers from limited design options that limit the developers from introducing new changes regularly. However, WordPress team is trying its best to prevent this problem by releasing new updates.
Limited content management capabilities: Originally designed as a blogging platform, WordPress has limited content management abilities. If you want to post hundreds of blogs per week, the backend of WordPress might seem a little underwhelming to handle major bulk of content.
An introduction to Joomla
Joomla is also an open source Content Management System, which is based on PHP coding with MySQL database. However, if you want to create a community with a membership area, forums, newsrooms, input from authors etc, Joomla is an ideal choice over WordPress despite of missing the hosting facility. Despite lacking a good fan following like its competitor WordPress, Joomla enjoys a great reputation among some big names such as Linux.com and eBay, both of which are using Joomla as their preferred CMS from years.
Pros of Joomla
User-friendly: The User Interface of Joomla credits to its popularity. Although a little learning is required to figure out the backend appropriately but when compared to its rivals, Joomla is blessed with flexible, powerful and polished UI, which makes easy for the new publishers also to publish the content easily.
Strong developer community: Joomla enjoys the advantage of having a stronger developer community, which continuously launches free of cost open source plugins and extensions.
Extension variability: Joomla offers five varied category of extensions to the users for improving the site content. It includes plugins, components, modules, templates, and languages. However, each of these modules differs in power, functionalities and capabilities.
Strong content management capabilities: Designed as an enterprise grade Content Management system, Joomla offers great content management capabilities, which allows you to handle extensive bulk of content conveniently.
Cons of Joomla
Some learning involved: You cannot simply open the Joomla installation and start publishing the blog posts because familiarity with this software is must for using it flawlessly.
Advanced customization: The advanced customization might be a problem for the newcomers because if you want to use the advanced features of Joomla in full-fledged way then you need to take assistance from a programmer or developer.
Lack of SEO capabilities: While WordPress is known for offering great SEO features to make the sites easily searchable on search engines, Joomla lacks the search engine friendliness unless you have a budget to employ an SEO expert as an alternative solution.
Limited ACL support: ACL (Access Control Line) is a set of permissions granted to particular set of users for accessing specific pages, which is offered by almost all enterprise-grade CMS solution however, Joomla lacks this functionality and developers can use this feature only if they have version 1.6 or onwards installed on their computers.
After exploring the pros and cons of Joomla vs. WordPress, it is important to know which of the two is better for blogging purpose. The answer does not represent any pros and cons of these two platforms but it simply allows you to choose between the two when it comes specifically for the blogging purpose.