Submited by
flamefox18
No Comments
BJ Venus focused on professional design. 6 Colors styles are available, and even more are coming (which are Free for Pro and Dev members). Venus is a Joomla template that fit every purpose from business to personal blog…
Many extensions offered by ByJoomla (including BJ Image Slider, BJ News tab and BJ Drop down Menu, BJ Content Slider…) are combined together in this Joomla template. There are huge typography library and functional modules so your content is effectively presented.
Template BJ Venus Info
Template BJ Venus Positions:
Template BJ Venus 2 Screenshots: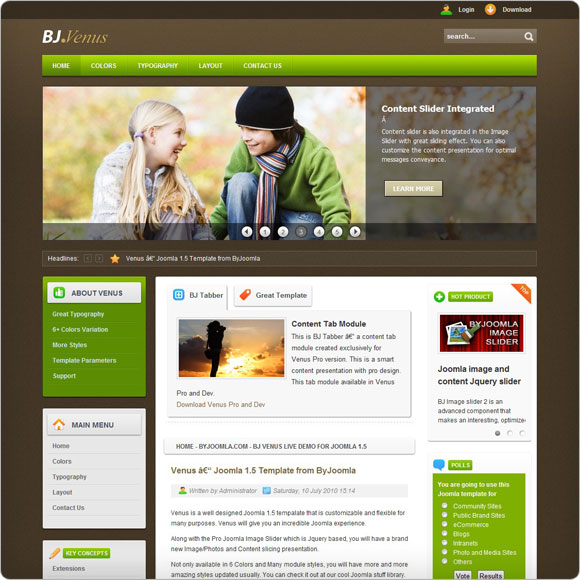 Template BJ Venus Feature List
Table-less & CSS-based
Adjustable layout
xHTML & CSS validation
Support Chrome, IE7+, Firefox 2+, Safari, Opera
SEO friendly with SEO parameters
No flash so let just say your site would be viewable on the iPad, and SEO friendly
Right to Left – RTL languages supported
Venus is a flexible Joomla template and easily customizable
Simple CSS-based customization
Large Typography Gallery (bullet list, dialog, icons, buttons, modules…) and more typo updated usually.
4 module styles x 6 color ++ (Professional get new styles usually)
Template BJ Venus Live demo and Download
Related Posts
Leave a comment
You must be logged in to post a comment.